WELCOME SCENER!
Jamaica ROM is a scene Island with events for Amiga, PC, c64, Atari, console. Over the years it has got a creative and popular status of multiple reasons. Let us present some of them for you: First it's the favorite place for the ancient Amiga tribe to show up. It also has a friendly atmosphere, perfect if you would like to get to get in touch with others. A third reason would be the massive attack of suprise compos during the party weekend. No silence in the classroom, JRP is full with activity! Check the compo pages for a closer look where you can compete.
When: 26-28.10.2007
Where: Lundagatan 55, Stockholm, Sweden
Fee: 100 SEK (10 Euro)  —-> *new* pre payments here
FEATURES
JRP will be held in a basement below earth. Three rooms, a kitchen, sauna, BBQ possibility, shower, toilets.. Piano bar where you may sip on your drink…
A free shuttle will pick you up/leave you for best comfort. Check the travel page for more info. The golden Jamaica ROM statuette for
categories Demo, 4k, Graphic and Music: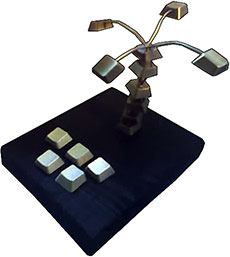 JRP is like vaccation and you'll fill your lungs with the scene spirit for sure!
The only homework we'll give you to remember is 26-28th of October.
Sign up for the party now!